Fred Armisen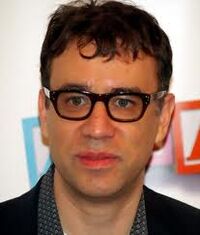 Role   -   Voice actor
Character   -   Martin
Date of birth   -   December 4, 1966
Fred Armisen is an American actor. He voices Martin on the animated show, Unsupervised.
Fred has proven through the years that he is a true chameleon when it comes to impressions, and audiences have marveled at the effortlessness with which he switches from character to character. Most notably, Fred took on the roles of U.S. President Barack Obama and former New York Governor David Patterson. He has also contributed memorable impressions of Larry King, Libyan Dictator Moammar Khaddafy, Iranian President Mahmoud Amadinejad in the popular digital short Iran So Far Away, and Prince, the often-silent host of the musician's talk show The Prince Show. Other unforgettable characters of Fred's include the distracted court stenographer "Elinda Nade," the political comedian "Nicholas Fehn," and "Mr. Vogelcheck" in the 'too close for comfort' kissing family.
Fred has landed on "Hot List" as well as several times on Entertainment Weekly's "Must List." He's appeared in countless feature films, including the animated feature The Smurfs, Cop Out, alongside Bruce Willis and Tracy Morgan, Confessions of a Shopaholic opposite Isla Fisher, The Rocker and The Promotion.
Fred also co-created, co-wrote, and stars in the critically-acclaimed IFC comedy series Portlandia. Currently taping its second season, the show takes a comedic and whimsical look at the eco-friendly city of Portland, Oregon.
Fred began his career as a musician in the Chicago-based post-punk band Trenchmouth as well as playing with Blue Man Group. His transition to comedy came with the 1998 underground short film Fred Armisen's Guide to Music and SXSW which followed him through the Austin, Texas South by Southwest Music Festival posing as a music journalist. In 2006, he tried his hand at actual musical journalism, profiling the indie darling Cat Power for the influential music website Pitchfork.com. He blended music and comedy, becoming drummer "Jens Hannemann" and releasing an instructional DVD Complicated Drumming Technique in 2007.
Fred currently lives in New York City.